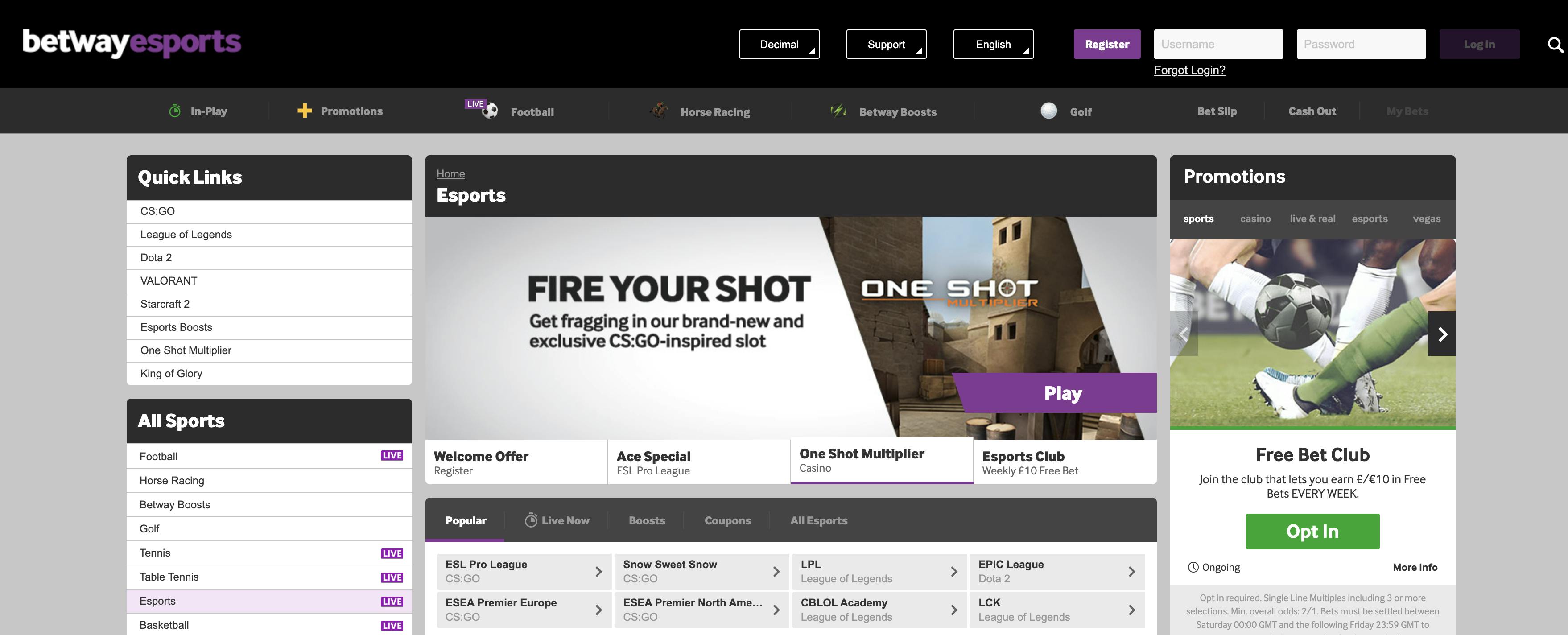 Betway Esports Esports Betting in 2020
The eSport industry is growing at a noteworthy pace, and there is no benchmark set for it. Other formats of games and sports are at the mercy of various factors. It can be weather conditions, geo-politics, diseases, etc. Esports, on the other hand, is free from all these deterrents. As long as there is internet connectivity globally, the match will continue.
 This review will focus on the eSports betting brand of Betway.
Betway Main Features
Betway has been operating since 2006, and no names come bigger than Betway in the online gambling world. And unlike the many competitors in the market, Betway is one of the first bookmakers to embrace the esports market.
Betway ranks among one of the most popular esports betting sites available to punters.
Different eSports offered on Betway:
Betway offers a wide range of eSports as compared to the other sportsbook. They provide a good selection, though not the largest.
Some popular games at Betway:
Counter-strike: Global Offensive ( CS: GO)
DOTA 2
League of Legends (LOL)
PUPG
World of Warcraft
Call of Duty
Overwatch
Some relatively successful games like Hearthstone and King of Glory do provide an exciting betting market. The downside of these two games is, Hearthstone has a high learning curve, and King of Glory is a mobile game.
Another unique feature at Betway is the massive variety of different markets attached to the games. It allows the sports bettors to bet on a wide variety of in-game plays.
Common bet types:
The best bets available at eSports follows a similar logic as those of traditional sports.
Types of Bet:
The winner bet is the simplest type in eSports.
Handicap market is more complicated and exciting.
Hypothetical handicap on one particular team
Correct prediction wins the wager.
The under market requires you to guess the correct number of objectives to take- number of rounds or kills.
First-to-objective lets you guess which team will pick up a particular ritual objective in a match.
First blood lets you guess which team will get the first kill.
Some in-play betting
Bet on the match-winner
Prediction on the winner of the second map
Bet on an individual player from a particular team.
The setting of bets at Betway:
The other Sports and eSports share a standard fashion in how the bets take place. Betway waits upon the official result supplied by the tournament officials for specific eSports.
Characteristics of settling bets:
Betway will void the result in case of server or hosting issues.
Match overtime affecting the results taken into consideration.
Each eSports will have specific rules around the settlement.
Mobile app at Betway eSports:
Betway mobile application works on both Android and iOS devices. This feature gives easy navigation and accessibility.
Features of the mobile app:
Betway eSports landing page instant access from the main home page.
Outlines for different title and options.
Players local services with location switched on. 
Option for push notification that gives alert for free bets, promotions, and scores.
Bonuses and Promotions at Betway:
One important thing for the online bettors is the bonuses offered by the betting sites. The same applies to eSports players. This sportsbook goes to the extent of rewarding you for participation, earning a good payout as a result.
Welcome Bonus: Free bet
Once you register with Betway, a welcome bonus of $30 is gifted to allow the users to get a head start. Betway also offers a specific eSports initiative called sports objectives. It enables one to claim an additional amount in free bets and 30 bonus spins each week.
Deposits and withdrawals at Betway:
Online gambling does not give an option to use physical cash. Deposits and withdrawals are made through online payment services supported by the sportsbook.
Various payment methods:
Bank wire transfer
Ewallets
Prepaid cards
Credit and debit cards
Betway does not impose any restriction fees.
Licensing: restricted countries:
One needs to look at the licenses of betting sites to judge their legitimacy. Without a certificate of authenticity, you can never be sure whether the site is genuine or practices honesty.
Betway has its license from some of the respected institutions all over the European Union.
Some of the licenses are:
United Kingdom Gambling Commission
Malta  Gaming Authority 
Danish Gambling Authority
Republic of Ireland Office of the Revenue Commissioner
Esports betting doesn't cover the whole globe. Betway doesn't allow users from some countries to use their services.
Restricted Countries:
Brazil
South Korea
Panama
Italy
Russia
Argentina
Germany
Customer service:
Customer support at Betway is top-notch.
Features of customer services:
Customer service contact points.
'Live Chat' service with a dedicated team.
Quick response time (within 24 Hours)
Community & Support
Overall, Betway is an eSports betting site that's second to none. Unlike many sportsbooks out in the market, Betway understands the eSports industry. The multiple promotions regarding esports betting band their sponsorship at a team, speaks volume about it. All aspects of the service are generally good, with some reaching the excellent par. The coverage of the rest majority of tournaments across multiple regions is a testament to Betway's popularity. All in all, Betway as an eSports betting service delivers to the fullest.