Best Rust Crash Gambling Sites
Top 7 Rust Crash Sites Tested & Reviewed
Rust Fans can now enjoy amazing crash games using their collection of Rust skins and items. But how do you find the best Rust crash sites out of the hundreds of available options?
Well, we tested countless platforms and judged them based on their reliability, usability, visual designs, and reward levels. The top 3 options we found were HowlGG, RustStake, and RustLoot. But of course, there's still more where that came from. Read ahead to learn more!
Show More...
What Is Rust Crash Gambling?
The idea is fairly simple and probably one of the most straight concepts ever invented in gambling. Players select a specific amount to bet on before the start of each round, which they can withdraw whenever they want. Of course, you will have to first convert your Rust skins into redeemable coins, points, or whatever gambling currency the particular platform uses.
As the round starts, the bet will start multiplying as it keeps climbing upwards, typically on a graph. The multiplier directly affects how much money you can win, provided you are able to withdraw the bet before it crashes.
For Example
If you bet $5 and withdraw your bet when the multiplier reaches 15x, you will win 15 times your original bet amount, which is $5. However, if you fail to withdraw the bet before the crash, you will essentially lose the entire $5.
Rust Crash Gambling Bonuses
The great thing about Rust crash sites is that they offer plenty of bonuses that can give you an advantage on your next bet. These might be simple boosters, skins, credits, or even signup bonuses.
For example, HowlGG offers new players a signup bonus of 1000 credits, which is quite impressive. It also has a rain system that showers free credits on players every 30 minutes! Read ahead to learn about some of the prominent bonuses you might find on a Rust Crash gambling website.
Free Skins
It's quite common for Rust Crash gambling sites to offer free skins. Once you receive the skins, you can convert them into redeemable credits or points to bet on your next Rust crash wager.
Free Cases
Rust Crash platforms will also offer free cases from time to time. The contents can be as small as a meager $0.50 credit or a valuable high tier Rust skin, which you can redeem for numerous credits!
Deposit Bonus
Some Rust crash sites will give back a certain amount of your deposit as a bonus. It can be something as small as 20% of the amount or even 50% of what you deposited, which gives you a hefty boost. In some cases, you might even get your deposit doubled up to a certain amount!
Seasonal Promotions & Events
Rust Crash sites will always make it a point to reward their players during special events and seasonal holidays.
If it's Christmas, you bet there's going to be a considerable bonus! What about the fourth of July? Definitely! Halloween? Absolutely!
Free Coins
It's not uncommon for Rust crash sites to offer free coins to their players to give them a slight booster. The extra coins can definitely come in handy during your next bet.
Claiming Bonuses From Top Rust Crash Gambling Sites
Claiming bonuses from Rust Crash sites is pretty easy and straightforward. To explain, we will use the example of the top Rust Crash site on our list, HowlGG.
Step 1: Create A HowlGG Account
You will naturally need to sign up for HowlGG, or any other platform for that matter, if you want to claim some lucrative bonuses. Luckily for you, doing this is quite easy as long as you have a Steam account. Simply click the log-in option, and it should redirect you to a page that lets you pick a particular Steam account. Simply click on your Steam account name, and you're done!
Step 2: Find A Bonus To Claim
There will be loads of bonuses lined up for you when you sign up for a particular Rust crash site. All you have to do is pick one! For the sake of convenience, we'll pick the 'Free Coins' bonus located on the top right corner of HowlGG's home page.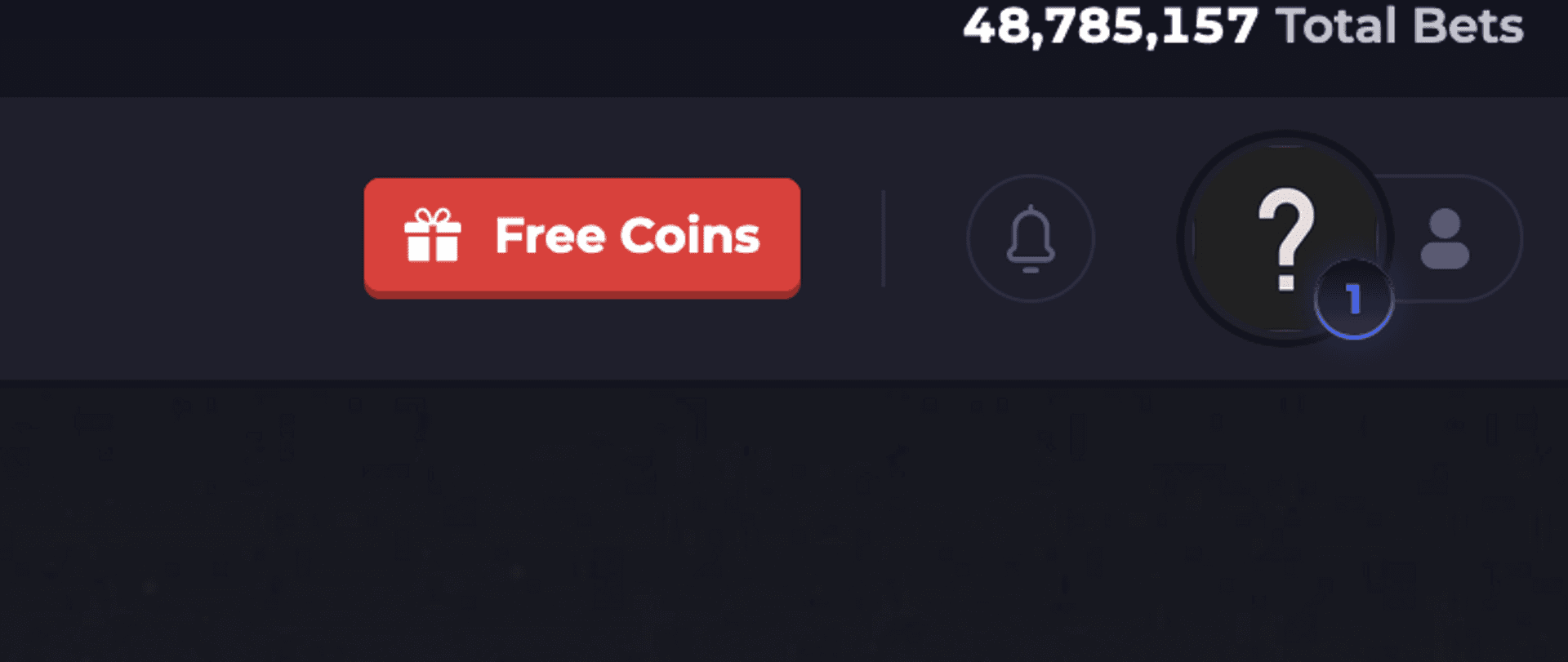 Step 3: Redeeming Free Coins Bonus
Simply click on it, and it should open up a small dialogue box, as seen in the screenshot below.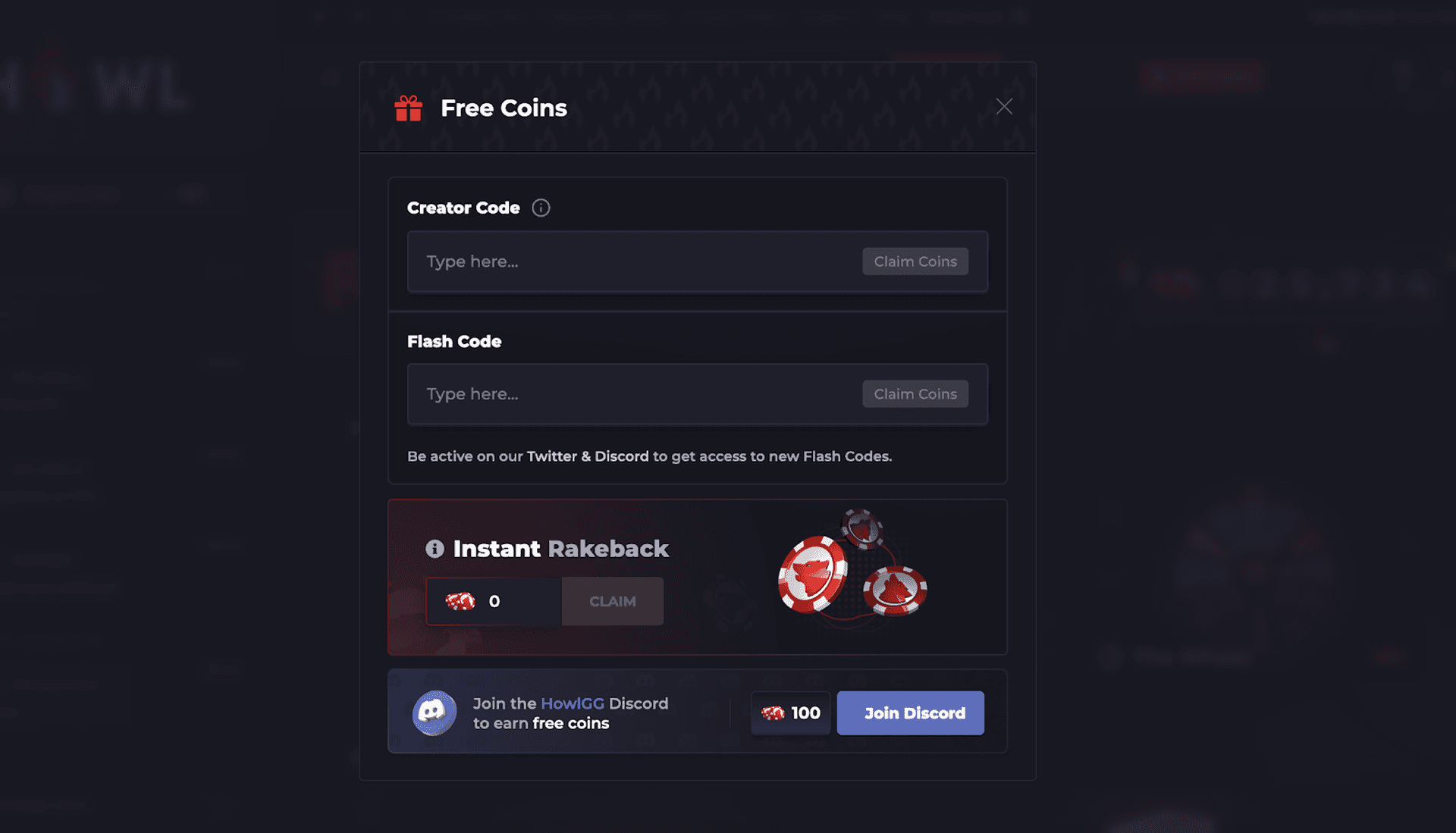 Step 4: Enter Code
As you can see, you will have to add your creator code and flash code in order to claim to free the coins. Once you do that, the instant rakeback section should also display how many extra coins you have gained depending on the promo codes. You can go ahead and claim your bonus now.
Best Rust Promo Codes For Crash Sites
There are many Rust Crash promo codes that offer varying degrees of rewards and bonuses. For exciting bonuses, try our promo codes:
Steam level can impact the bonus
Most sites will give you bonuses with promo codes regardless of your Steam account level, however, many of them will give you additional perks on top if your Steam account is level 5 or higher.
If you want to know more about promo codes on esports betting sites sites, check out:
Where Can You Play Rust Crash Games?
You can play Rust Crash Games on Rust gambling sites that allow crash games or Crypto casino platforms that let you play Rust Crash. Read ahead to learn more about these options.
Rust Gambling Sites With Crash Games
While there are many prominent Rust gambling sites, not all of them will have the Rust Crash game we have all come to love so much. However, we can provide a few examples. Try using HowlGG, RustReaper, or RustStake to get your hands on some of that crash action!
Crypto Casinos With Rust Crash Games
Although rare, there are some crypto casino platforms that support the Rust crash game. One such example is none other than RustReaper, our number one Rust gambling platform that allows players to use several Cryptocurrencies and a string of online payment options.
Rust Crash Rules
Bets Start Before Each Round
As the rules state, players can only place bets before the start of each round and not in between.
The Multiplier Determines How Much You Win
The job of the multiplier is to keep track of how much you have won so far. The higher it gets, the more you win if you successfully withdraw your bet on time.
The Round Ends With The Crash
As the multiplier keeps increasing, it eventually moves closer and closer to an inevitable crash. Once that happens, the round is complete.
How Rust Crash Sites Work
Crash games generally involve a massive number of players worldwide, so expect a crowded server. You can place your bet at the start of each round and pull out before the multiplier crashes. Do this, and you will successfully win the multiplied amount.
How To Get Started With Rust Crash Sites
Getting started with a Rust crash site is straightforward. Read the steps below to learn more.
Find A Rush Crash Gambling Site
First, you need to find a trustworthy Rust Crash gambling site to play on. Let's use HowlGG for this example, the overall best when it comes to Rust Crash sites.
Sign Up As A Member
You will need a Steam account to do this, so we suggest making one if you haven't already done so. Once that's done, simply click on the signup option, which will redirect you to a page displaying your Steam account. Select your account, and it will sign you up on the platform.
Make A Deposit
Next, you'll need to make your first deposit. Depending on the site, this can be a monetary or skin deposit.
Play!
Finally, click on the Crash game option and use your deposit to place your first bet. Pull out before the multiplier crashes to win back several times your wager!
Depositing & Withdrawal Methods Available For Rust Crash
Monetary deposits are pretty simple, just click on the deposit option and use whatever valid payment method the site allows. For example, HowlGG allows you to deposit using Crypto, Gpay, PayPal, etc. On the other hand, you can deposit Rust skins and redeem them for playable coins.
How To Choose The Best Rust Crash Site
There are a few things to remember when selecting a Rust Crash Site to bet on. Some of them are noted down below:
Availability is a big factor in any online gambling platform. If you want to participate, you will need the platform to be operational in your region.
While you can use VPNs to unlock locations, you will face a severe problem if the site doesn't let you withdraw your winnings to a certain region.
Make sure the platform is absolutely legal to use; otherwise, you will risk your entire deposit amount, along with your information.
It is important to pick a platform with a provably fair system to ensure safe, reliable, and fair betting outcomes.
Make sure the site has stellar customer care services, so you can quickly resolve any issues.
It's always smarter to choose platforms that offer lots of bonuses. This reduces the overall financial requirement from your side.
What Are The Odds Like For Rust Crash Games
In one word, unpredictable! Crash games are known to be extremely volatile, with polar opposite probabilities on most turns. The odds for such a game are highly unfavorable, as most turns will result in early crashes with only a tiny amount soaring to the heights you wish to see.
How to Win Playing Rust Crash
Seeing as how the odds are highly unfavorable, there are not many ways one can win besides relying on pure luck or intuition. However, there are a few tips that have worked for several Rust Crash players before.
Keep Your Bets Small
Doing this will limit your overall losses; however, it will also limit your potential wins. Overall, it's a good strategy if you just want to go a few rounds with minimum damage.
Take Advantage Of Bonuses And Promotions
The more you can play with bonus money, the fewer chances of losing your own. That's why it's so important to take full advantage of any free coins, boosters, or rewards you find.
Aim For The Long Run
This only works if you have a high balance and good patience. Players often lower their bet amounts for the first few initial rounds and then amp up their bet amounts after that.
In most cases, the extreme flights only take place after the initial 20-30 rounds, so try to make it past those with minimum damage. Once you survive, increase the betting amount and refrain from withdrawing until you have attained the heights you desire.
Are Rust Crash Games Legal & Fair?
Rust Crash, like all other crash games, is absolutely legal and fair, provided you are using a reliable and safe platform that won't scam you.
Is It Safe And How To avoid Rust Crash Scam Sites
Rust Gambling is absolutely safe to participate in as long as the platform is trusted. However, playing the game on scam sites is not safe and should be avoided at all costs.
The trick is to spot one before you enter any of your personal information. Avoid any sites that make offers that are too good to be true. Check reviews of any site you want to use and avoid those that don't have any.
History Of Rust Crash Sites
Crash games were created around 2014 to serve as a Casino game option for Bitcoin users. Needless to say, it became widely popular because of the social connection players would get. Unlike other games, each and every player would be competing in the same game, but not with each other. Instead, they would simply play the same game together.
Fast forward a couple of years, and we have the first-ever Jet crash games, which, as we know, involve displaying cool jets and planes instead of a blank multiplier. This has been the fashion for quite some time.
Then, with the popularity of the first-person online PVP shooter Rust, Crash games saw a whole new possibility. This ultimately led to the first-ever Rust Crash Site being launched somewhere around 2017.
What Other Rust Gambling Games Are There?
Rust fans can enjoy a slew of Rust gambling games; each one is more exciting than the previous. Some of them include Blackjack, Slots, and Coin Flips.
Rust Blackjack
Blackjack is perhaps the oldest casino card game in the world and has enjoyed immense popularity throughout its existence. Now, Rust fans can enjoy playing blackjack using Rust skins! Check out RustReaper for some amazing Rust blackjack games!
Rust Slots
Slots have always been the favorite gambling game for those who would rather rely on sheer luck instead of skill. Lucky for you, slots have been adapted into many Rust gambling platforms, such as HowlGG.
Rust Coin Flip
Perhaps the simplest gamble of them all, a simple coin toss with two players picking heads or tales. This age-old gambling game has been adapted into the Rust world as well; check out HowlGG for more.