How to Ping League of Legends Server
Want to know how to ping the League of Legends server? Here's how.
Launch the command prompt in your Windows PC, type ping' Server IP Address,' and hit enter. The ping number, such as 40 ms or 30 ms, will show up. Checking the server ping is a bit different for Mac, which I will discuss below.
Ping is a crucial component in online gaming, such as League of Legends, as it can determine the game's outcome. LoL players, both veterans and amateurs struggle with sluggish servers at some point, so knowing the tricks to ping the servers can be very helpful.
As a regular League of Legends player and a big fan, I often encounter bad ping, but I solve the issue quickly by pinging the server, which I am sharing in this post. There are additional tips and tricks to fix ping problems, so keep on reading to find out!
Show More...
How to ping a League of Legends Server
If you are struggling with lag and bad ping during an exciting LoL game, checking the ping rate on the server can help you understand and fix the issue quickly. To ping League of Legends servers, there are a couple of ways.
You will need to know the IP addresses of the League of Legend servers to ping them manually. Below are the IP addresses.
| Server | Location | IP Address |
| --- | --- | --- |
| North America (NA) | Chicago, Illinois, United States | 104.160.131.3 |
| Latin America | Miami, FL, United States | 104.160.136.3 |
| Oceania | Sydney, Australia | 104.160.156.1 |
| Europe West | Amsterdam, Netherlands | 104.160.141.3 |
| Europe Nordic & East | Frankfurt, Germany | 104.160.142.3 |
| Brazil | São Paulo, SP, Brazil | 104.160.152.3 |
| Singapore, Malaysia, Indonesia | Singapore | 103.247.207.173 |
| The Philippines | Taguig City, Philippines | 122.11.128.127 |
Here's a Quick Vieo Explainer on How To Ping NA LoL Server
Thanks to Zativert for the video
1st Method – Manually checking the LoL server ping in Windows OS
First, open the command prompt app by typing in the search button. Alternatively, hit the Windows + R on the keyboard to open the "run" menu. Next, type in 'cmd' and hit enter to open the command prompt.
Next, type 'ping [server IP Address].' For instance, 'ping 104.160.131.3' if you are on the North American server.
Hit enter on the command prompt, and the ping rate on the server will show.
Pro tip
Check the ping on multiple League of Legends servers so you can play on the one with the best ping.
Manually checking the LoL server ping in Mac OS
Turn on the terminal, type 'ping server IP,' and press enter.
The ping number will immediately show up on the screen.
2nd Method – Use an LoL ping test tool
Another way to check the ping on League of Legends servers is to use an online ping test tool. There are several LoL ping test tools, such as the PingTestLive and Game Server Ping. On these online ping test tools, you can ping individual LoL servers or multiple servers at once without typing or any manual input.
Let's check out how to ping the League of Legends server with PingTestLive.
Access PingTestLive from a browser of your choice.
Select the LoL server you want to ping or choose 'select all' from the option.
Hit the 'ping' button above the server names.
Instantly, the test tool will connect to the server, and the data for latency and average ping will show up on the table.
To repeat the ping check, click 'unselect all' and repeat the process.
Note
The 1st and the 2nd methods of checking the ping are a great way to find out the server's status without logging into the League of Legends game.
3rd Method – Check the ping in-game
You can also ping the League of Legends server while you are in the middle of a game session. Follow the steps below:
Access the setting menu in the LoL game.
Next, locate the 'Display.'
Scroll to find the 'Toggle FPS Display' and click on it to view ping like this.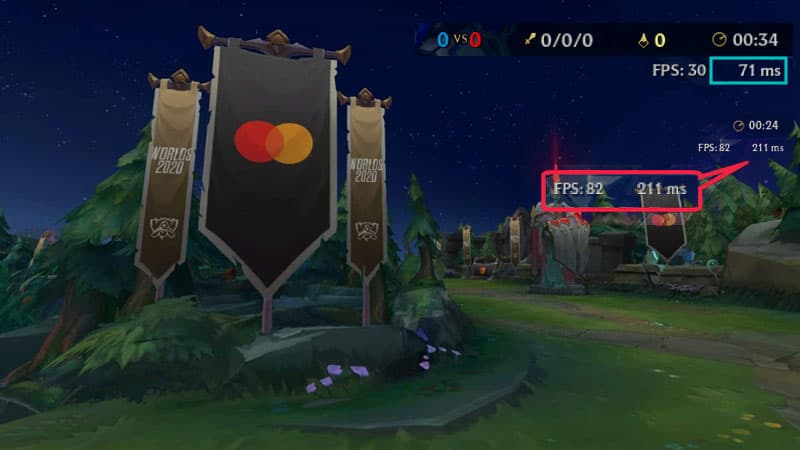 Parameters for a good ping in the League of Legends server
A good ping is an essential parameter for online gaming, such as League of Legends. But what is a good and bad ping? Here's a reference.
30 ms or less – Ideal ping for online games
30 to 50 ms – Average ping available on most LoL servers
50 to 100 ms – Causes noticeable lagging in streaming, graphics, and gameplay.
100 to 500 ms – At this ping rate, online gaming will be impossible.
According to AT&T, a ping rate over 150 ms or milliseconds will cause considerable lag, so online gaming will be highly affected. Online gamers require a ping rate under 50 ms to have a good gaming experience. However, gamers streaming on Twitch and other online platforms perform the best when the ping rate is between 15 and 20 ms.
Factors responsible for high ping rate in League of Legends and how to fix them
If you notice that the ping rate while gaming LoL is above 100 ms, there are several explanations, including:
Distance
The farther your gaming system is from the server, the higher the ping rate.
Fix: Bridging the physical distance between your League of Legends gaming setup and the server is largely out of control. Using the LoL server closest to your location is the best strategy.
Heavy traffic
Traffic on your server network, including downloading and uploading large files, can also increase the ping rate. Even if your internet service plan says 10 Mbps, the traffic can reduce to 3 or 4 Mbps during peak times, significantly impacting your internet speed.
Fix: If someone on your network, such as a home office or a professional studio, is downloading a game, uploading a large file, or watching shows online, you can ask them to pause it, especially if you are live streaming LoL. Unless you are playing a League of Legends tournament, avoid playing the game during peak times.
Shared connection
A high number of connections, especially business establishments hooked to your servers, can create a tight bottleneck and increase the ping.
Fix: Installing a private connection is the best fix, as it connects your gaming setup directly to the ISP's network. Dedicated internet access means you don't have to worry about draining bandwidth from a shared connection.
Hardware issues
Loose wires or connections between modems/routers can also increase the LoL ping.
Fix: Try and get the Ethernet cable plugged directly into your internet router if you are on a Wi-Fi network. Position your LoL gaming setup in a spot to access a better signal. Check the wires and connections between the desktop, modem, and router.
Software issues
Outdated drivers and running multiple programs in the background while playing League of Legends can slow your system and increase the ping rate. Using Chrome can significantly slow your system, and so does active downloads and running torrent apps.
Improper installation and firewalls can also increase the ping rate while playing League of Legends.
Fix: Try restarting the modem, router, and your computer, updating your system's drivers, and shutting down the apps running in the background. If you are playing music on YouTube or running Chrome in the background, close them as well.
If you think that the high ping in the LoL server is due to a firewall or other issues that cannot be fixed by the solutions mentioned above, download the automated troubleshooting tool from Riot Games.
Final thoughts on how to ping the League of Legends server
A high ping rate can be detrimental to your overall gaming experience, especially if you are a professional streamer. As explained above, there are multiple ways to ping a League of Legends server, but the quickest is to use an online ping test tool.
Check out the ping tests this post shared and see which works for you.
FAQs on Pinging LoL
Why is ping important in online gaming?
When should I consider switching to the League of Legends server?