Best Rust Jackpot Sites
Top 7 Rust Jackpot Sites Reviewed
Looking for the best Rust Jackpot site in 2023? Say no more! The top three Rust Jackpot sites are HowlGG, RustStake and RustLoot. If you want to know more, keep reading!
We've already compiled a list of the best Rust Jackpot sites based on their reliability, rewards, bonuses, usability, and overall layout. And the best part is, they're all incredibly popular amongst Rust fans.
As for the rest, we've got those covered as well. Read ahead for more.
Show More...
All Rust Jackpot Sites in 2023
18+ T&Cs apply. begambleaware.org.
Show me more betting sites
Best Rust Jackpot Sites in 2023
HOWL.GG - Overall Best Rust Jackpot Site
RustStake - Best For Rust Bonuses & Free Coins
RustyLoot - Best for Rust Events & Large Community
RustChance - Best for Rust Low Ballers Betting
RustReaper - Best for Rust Gambling Banking Options
RustBet - Best for Rust Giveaways
RustyPot - Simplest Rust Jackpot Design
Our Top Rust Jackpot Picks
Compare Best Rust Jackpot Sites in 2023
Betting Site
Bonus
Minimum Deposit
Available in the U.S
# Esports Available
Betting Types
HOWL.GG
RECEIVE $0.50 FREE
n/a
Yes
1

Blackjack

, Coin Flip

, Jackpot

, Live Games

, Lucky Wheel

, Roulette

, Skin Betting

, Slots

RustStake
$0.50 TO DEPOSIT
n/a
Yes
1

Case Battles

, Case Opening

, Coin Flip

, Jackpot

, Lucky Wheel

, Skin Betting

, Upgrade Sites

RustyLoot
DAILY BONUSES
n/a
Yes
1

Case Battles

, Coin Flip

, Jackpot

, Lucky Wheel

, Mines

, Plinko

, Skin Betting

, Upgrade Sites

RustChance
DAILY BONUSES WITH ESPORTSLOUNGE PROMO CODE
n/a
Yes
1

Coin Flip

, Crash Sites

, Lucky Wheel

, Marketplace

, Mines

, Roulette

, Skin Betting

RustReaper
DAILY BONUSES
n/a
Yes
1

Baccarat

, Blackjack

, Crash Sites

, Dice

, HiLo

, Keno

, Limbo

, Lucky Wheel

, Marketplace

, Mines

, Plinko

, Roulette

, Skin Betting

, Slots

RustBet
DAILY BONUSES
n/a
Yes
1

Coin Flip

, Jackpot

, Skin Betting

, Upgrade Sites

RustyPot
DAILY BONUSES WITH ESPORTSLOUNGE PROMO CODE
n/a
Yes
1

Coin Flip

, Jackpot

, Skin Betting
What Is Rust Jackpot Gambling?
It's like normal Jackpot, except you can play using Rust skins! Well, minus a few differences. When it comes to Rust Jackpot gambling, players will have to work with a meter and place their wagers on where exactly the meter will end up.
Making the right prediction will obviously get you a win; making the wrong prediction will lose whatever amount you wagered.
Rust Jackpot Gambling Bonuses
There are several bonuses you can win while playing on Rust Jackpot sites. Each will give you a distinct set of advantages that you can use to win during the game.
Free Spins & Coins
Free spins are perhaps the most common bonus you can find on Rust jackpot sites, and for a good reason. Getting a free spin means getting another turn, increasing the odds of winning. Sites may also offer free coins to your deposit account, which you can use to wager on the next bet.
Free Skins
The great thing about Rust jackpot sites is that they offer players lots of free skins. You can redeem these skins for coins, which you can use for future bets. Some free skins might even be high-tier, giving you a tremendous advantage.
Seasonal Promotions & Events
Fans love seasonal promotions as they happen yearly and always give plenty of bonuses. So come around next Christmas, or maybe during Halloween, and you might get an extra treat!
Free Cases
Case openings are filled with possibilities and allow players to earn valuable loot. It's common for free cases to contain low-mid tier items/skins, free coins, and XP points.
Deposit Bonus
Rust jackpot sites will often reward players by adding a portion of their recent deposit as a bonus. Sometimes, sites even double the entire deposit amount, so remember to choose your amount wisely.
Signup Bonus
It's very common for Rust jackpot sites to give players a small to medium bonus amount upon signing. This is just a little incentive for the players to wet their beaks.
Claiming Bonuses From Top Rust Jackpot Gambling Sites: HowlGG
The process is quite simple and comes naturally even to those who have never done it before. Still, we will guide you through the steps by using the example of HowlGG, the best Rust Jackpot site in 2023.
Step 1: Create Your Account
So the first thing you want to do is go to the HowlGG website and click on the sign-in option. This will take you to a page prompting you to enter your Steam account name and password; go ahead and type them in the box. You will need to log in via your Steam account, so go ahead and create one if you haven't already.
Step 2: Find A Bonus You Want To Claim
On the HowlGG website, you will notice a 'Free Coins' option in the top right corner of the screen. As the name implies, it's a bonus that gives you free coins to use however you wish! Click on the icon to get to the next prompt.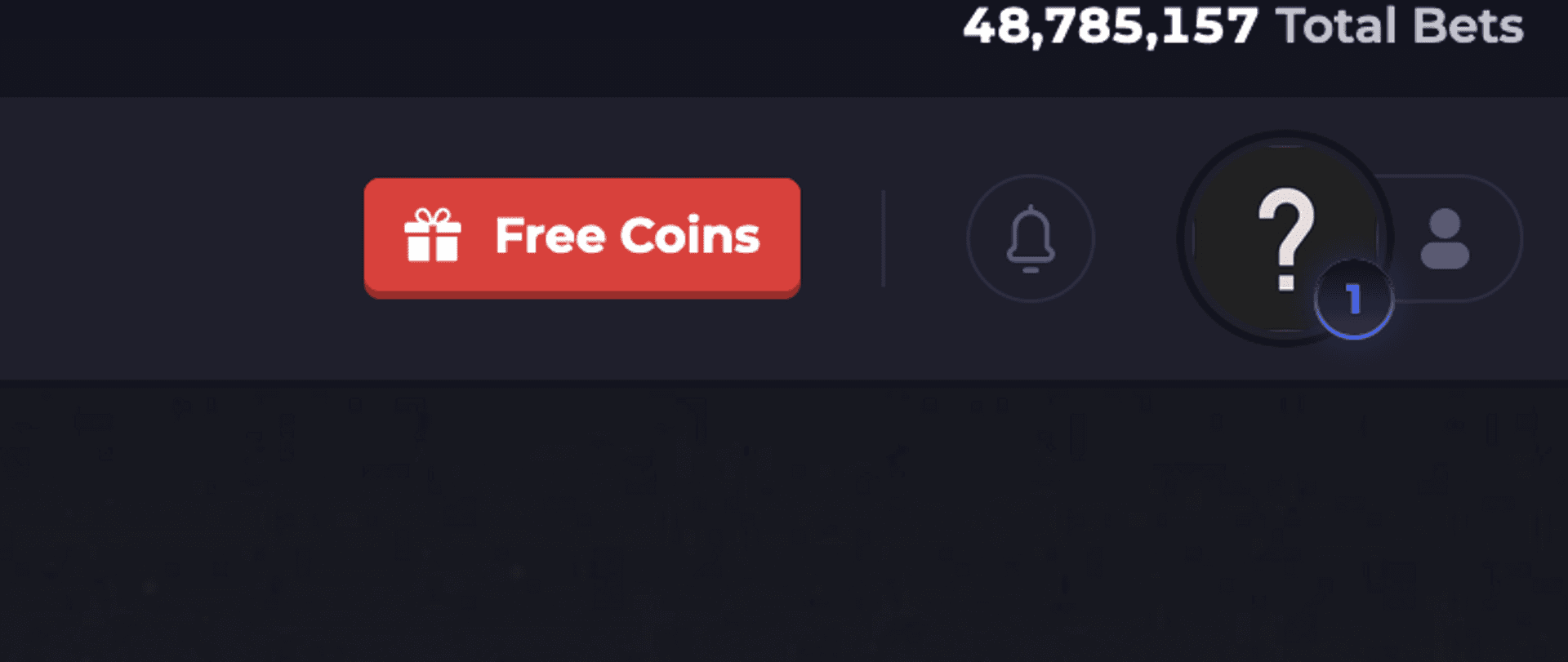 Step 3: Enter Code
Once you've clicked on the option, a separate dialogue box will open, asking you to enter the appropriate promo code needed for this bonus.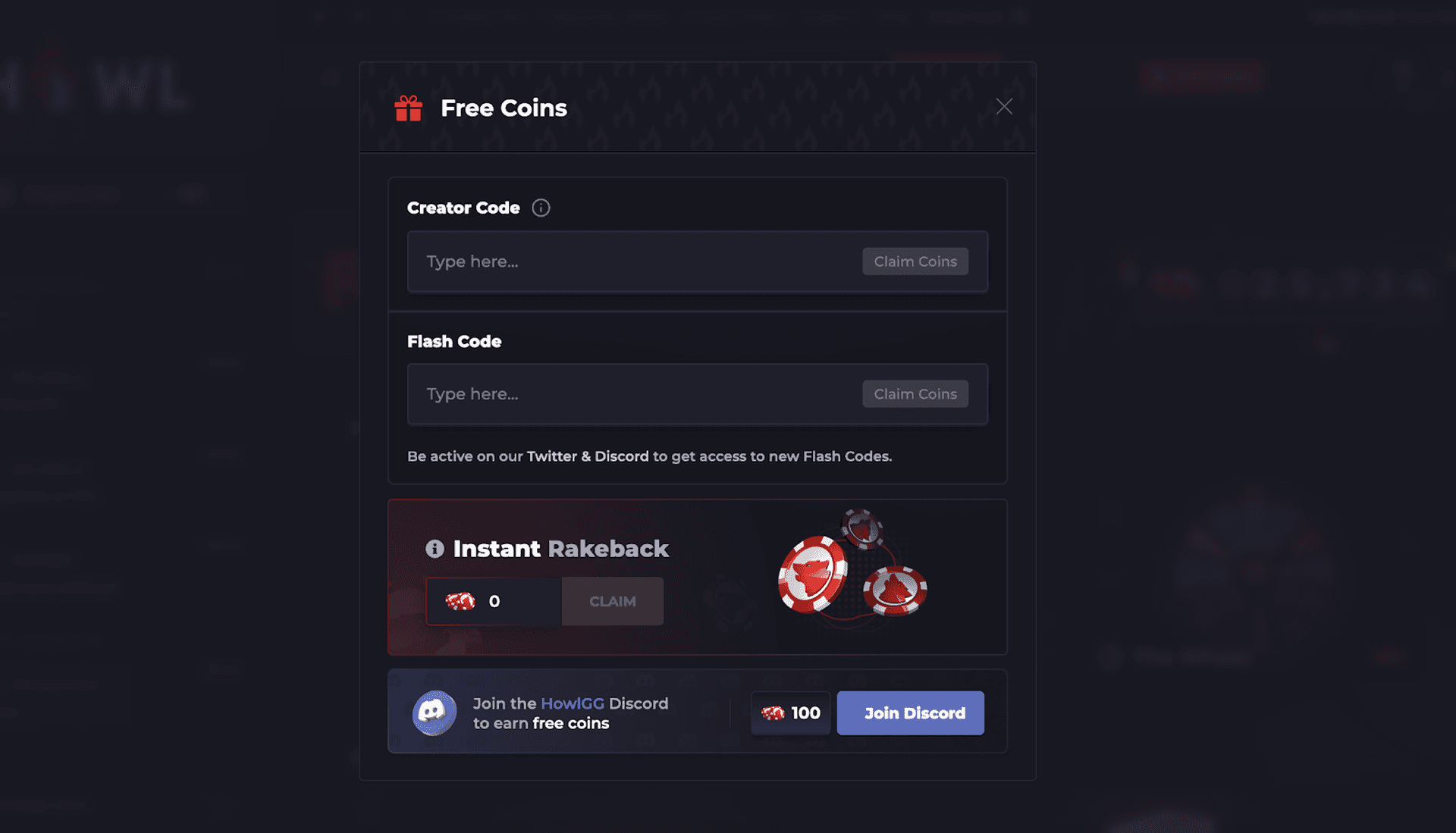 As you can see, HowlGG will want the creator code and the flash code to reclaim the Free coins bonus.
Step 4: Claim Your Bonus
Once you've typed the necessary code, you can click on the previously transparent 'claim coins' options. Simply click on them and claim your bonus!
Are There Rust Jackpot Promo Codes
There are numerous promo codes for the Rust jackpot with varying degrees of rewards. Use our promo codes if you're looking for additional bonuses:
| Rust Gambling Site | Promo Code | Bonus | Get Started |
| --- | --- | --- | --- |
| HowlGG | ELOUNGE | $0.50 to your deposit | Visit HowlGG |
| RustStake | ESPORTSLOUNGE | $0.50 to your deposit | Visit RustStake |
| RustMoment | ESPORTSLOUNGE | Will get you free gold | Visit RustMoment |
| Bandit Camp | ESPORTSLOUNGE | Will get you free gold | Visit Bandit Camp |
| RustClash | ESPORTSLOUNGE | Will get you free gold | Visit RustClash |
| RustyLoot | ESPORTSLOUNGE | Will get you free gold | Visit RustyLoot |
| RustReaper | ESPORTSLOUNGE | Will get you free gold | Visit RustReaper |
| RustBet | ESPORTSLOUNGE | Will get you free gold | Visit RustBet |
Steam level can impact the bonus
Most sites will give you bonuses with promo codes regardless of your Steam account level, however, many of them will give you additional perks on top if your Steam account is level 5 or higher.
If you want to know more about promo codes on esports betting sites sites, check out:
Where Can You Play Rust Jackpot Games?
Most Rust gambling platforms typically host jackpot games, as it's quite popular. Alternatively, you could also check out Crypto-based online gambling platforms for some Rust jackpot action.
Rust Gambling Sites With Jackpot Games
There are way too many Rust gambling sites to name, so we'll just go with the top three Rust jackpot sites on our minds. They are HowlGG, RustReaper, and RustStake.
Crypto Casinos With Rust Jackpot Games
Although rare, there are some crypto casino platforms that support the Rust jackpot game. One such example is none other than RustReaper, our number one Rust gambling platform that allows players to use several Cryptocurrencies and a string of online payment options.
Rust Jackpot Rules
Rust Jackpot works similarly to a traditional Jackpot wheel but with some slight differences in the rules. The layout for each Jackpot wheel will be different from site to site, which makes it difficult to have a universal set of rules. So, we'll be explaining how a general Jackpot wheel game works.
The Wheel Says It All
The wheel will have a set of identifiers, multipliers, or in the case of Rust Jackpot, icons of live bettors.
Bets Start Before Each Spin
Players are supposed to place their wagers on where the wheel's marker will end up after the spin. This must obviously be done before the countdown finishes, so there's still some time. You can increase the margin up to 10X if you feel lucky, or stick to the usual 1x or anything in between.
Spin The Wheel
Once the countdown hits zero, the wheel will automatically spin. Players must now wait until the wheel comes to a halt. If you guess exactly where the marker lands, you win the bet.
How Rust Jackpot Sites Work
Rush jackpot sites involve signing up, making a deposit, and playing your very first Rust jackpot game. You can achieve this in a few simple steps, as shown below.
How To Get Started With Rust Jackpot Sites
Step 1: Find A Rush Jackpot Gambling Site
Finding a trustworthy Rust jackpot site is easier said than done with all the options out there. For this example, we'll use HowlGG as it is highly trusted and simply the best Rust jackpot site in 2023.
Step 2: Sign Up As A Member
You will first need to have a Steam account, so please create one if you haven't done so already. Once that's done, simply click on the signup option, and it will redirect you to a page displaying your Steam account. Select your account, and it will sign you up on the platform.
Step 3: Make A Deposit
Before you can start playing any game, you will first have to make a deposit.
Step 4: Play Rust Jackpot!
You can start playing Rust jackpot after you have deposited some funds into your account.
Depositing & Withdrawal Methods Available For Rust Jackpot
The most common method is using Rust skins, which can later be redeemed as coins. On the other hand, some sites allow you to deposit real money using bank transfers, PayPal, Gpay, Crypto, or even debit and credit cards.
How To Choose The Best Rust Jackpot Site
There are a few things to keep in mind when selecting a Rust jackpot Site to bet on:
Make sure you are using a legal platform that is regulated.
The platform should have a provably fair system to ensure honest and fair betting outcomes.
Using VPNs is neat, but using a platform that actually works in your region is better.
It's always great to rely on some great customer care in case you need to resolve any issues.
Always choose a platform that offers tons of bonuses, but stay away from sites that are too good to be true.
Avoid scam sites like the plague.
What Are The Odds Like For Rust Jackpot Games?
Jackpot games are known to be extremely volatile, with polar opposite probabilities on most turns. The odds for such a game are highly unfavorable, as most turns will result in early crashes with only a tiny amount soaring to the heights you wish to see.
How to Win Playing Rust Jackpot
Rust Jackpot is mostly about luck and probability; it has nothing to do with individual skill. This naturally makes devising a surefire strategy almost impossible.
Bet The Same Amount Each Time
Limiting your bets to a specific amount is a great way to do some damage control, which is absolutely necessary when you're a beginner.
Use All The Help You Can Get
Don't risk your money; use ESPORTSLOUNGE promo code, welcome bonuses and other promos online to get you some instead! Save up on those codes, and cash them in all at once to give yourself a significant boost.
Are Rust Jackpot Games Legal & Fair?
Rust Jackpot games are absolutely legal and fair as long as the following conditions are met.
The platform must be regulated for user safety and privacy
Platform should have a great number of positive reviews from trusted sources.
There should not be any scam activities happening on the site.
The site must carry all the necessary licenses.
The platform should be trusted in the Rust gambling community.
Is It Safe And How To avoid Rust Jackpot Scam Sites
Rust jackpot is absolutely safe if you are using a trusted platform. But it is not safe to play Rust jackpot on a fake or scam site, so avoid these at all costs.
Don't enter your personal information without triple-checking the website. Look for reviews about the website and see what other trusted platforms have to say about them.
History Of Rust Jackpot Sites
The term jackpot is actually used to describe a massive win in a slot game, or rather, the biggest win. This term got adopted to several other games and activities, which involved a large and tremendous win.
After the release of the popular online PVP game Rust, online gambling platforms eventually started being flooded with Rust skins and items. Fast forward to a few years later, and we have our very own Rust Jackpot game hosted by some of the best Rust jackpot sites out there.
What Other Rust Gambling Games Are There?
Rust gambling doesn't only involve rust jackpot games but rather a whole collection of exciting activities. Some of the most common games include Slots, Blackjack, and Coin Flip.
Rust Coin Flip
Rust coin flip is by far the simplest Rust gambling game to ever exist. Just place your wager on one of two possible outcomes; heads or tails. If you guess right, you win! If not, too bad!
Rust Blackjack
Rust fans can enjoy an amazing game of Rust blackjack using Rust skins. It's obviously one of the oldest and most traditional card games in the world, so why shouldn't Rust have its own rendition?
Rust Slots
Ignore strategy and intuition, relying purely on faith, probability, and chance; that's the slot machine for you! Now, Rust fans can enjoy amazing Rust slots at several Rust Jackpot sites like HowlGG, RustReaper, etc.
Rust Crash
Rust crash betting is simple. You place your bet on up-words moving object, and your gamble is to say when its going to "crash". But the trick is, the higher it goes, the greater is the multiplier and the bigger the chance of it to crash. So don't be greedy and play on the safe side.
FAQs
What is the best Rust Jackpot site?
Are there any promo codes for the best Rust Jackpot sites?
What Payment Methods Can I Use To Play Rust Jackpot?
Are all Rust Jackpot sites legit?
Are all Rust Jackpot sites legal?
Can you win skins playing Rust Jackpot?
Are Rust Jackpot games fair?
Can you play Rust Jackpot for free?