Everything you need to know about Fortnite esports
Fortnite developed by Epic Games and released in 2017 has taken the world by storm, breaking all the streaming and prize pool records! The comes with three play modes, but seasonal/timely modes are constantly being developed and released. Fortnite comes with "Save the world", "Battle Royale" and "Fortnite Creative" gameplay modes. Battle Royale mode is the most popular for competitive players and is usually played at the esports tournaments. 
Read more...
Fortnite Competitive Scene
Currently Fortnite has no leagues, competitive seasons or circuits running. Meaning that the game is on the edge to become an esport but not just yet. But as with any multiplayer game, Fortnite players and communities are pushing the game to take on a title of esports. 
Fortnite is aimed at a young audience ranging from kids to players in their 20's. As a result, current tournaments are only hosted online however many esports organisations are looking into the game and developing different ways of making it to the esports scene. As of now, you may find that there are many unofficial teams and clans that are being formed for fortnite, usually made up of American players. The game is not limited to the US market and anyone in the world can join and play it. In fact, there are millions of players playing the game from all over the world, making Fortnite a truly international game to play.
Unlike other games like Real Royale or even Call of Duty Blackout, Fortnite is played on a massive scale with hundred players on a map. The game develops rapidly from first fe seconds. 
Players get to play to their preference, be it building buildings and fortresses to roaming around and farming loot to develop characters towards the end of the game. The combination of shooter, open land and freedom makes Fortnite an exciting esports title with many tournaments coming in the next few years. 
If you're looking to get into Fortnite playing, streaming, betting or just want to know more, below you will find all the information you might need to get you started.
Fortnite is great for solo play and for team based campaigns. Usually team games consist of four players, but duos and trios are also popular.
As the game starts, hundred players are flown over an island with an empty bag and a pickaxe. At any point, a player can decide to jump out of the plane and land in a random spot on the map. Depending on where they land, they roam around to find weapons, ammo and building materials to help them progress through the game and become the last one standing. Loot comes from crates and chests from all over the island. Pro players know the location of the best chests and that most chests are located in the cities. This makes the cities in Fortnite one of the most competitive battle areas.
While landing in these locations gives players the highest chance of collecting the best loot and making kills, these areas are also have the highest chance of death. This means players must decide whether the loot is worth the risk, or if landing in safer areas with less equipment is the best option for them.
Pro players tend to land in the cities and areas with large number of chests. This comes with two ends, higher chance to acquire rare loot early in the game as well as have a higher chance of death. Each player can see a safe zone on the map, but as the game progresses, players safe zone decreases with time, building up even more tension towards the end of the game.
In Fortnite, players can build buildings and forts from metal, wood and bricks collected from all over the map. Players build forts to increase the survival rate, increasing their defence. Forts protect players from incoming shots and projectiles. Fortnite forts are often used to reach higher ground to destroy enemies from above, giving distinct competitive advantage. Being able to build properly, know where enemies are likely to be and be able to shoot is vital to becoming a game winner.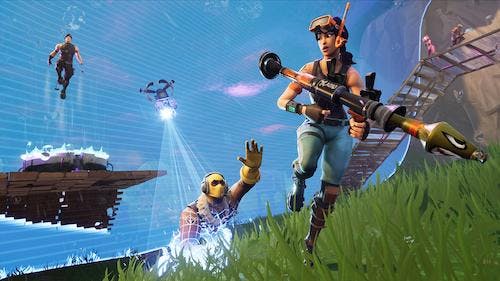 You will often hear "Meta" in competitive gameplays. Fortnite meta is the new strategies and ways of play that give players competitive advantage over enemies. Usually metas are developed by the players. As Fortnite develops, new weapons and updates are released, players need to create new metas to stay competitive. As long as Fortnite is being updated frequently, there will always be a competitive edge for new and pro players. One thing that separates a pro player from newcomer, is the ability to adapt to every new meta developed.
Fortnite is still considered a relatively new game. Fortnite developers constantly surprise its players with new features, weapons and bug fixes. These updates and features include jetpacks, ingame items, launch pads and more. Game developers are constantly on the lookout for new game modes to keep the game exciting and competitive. Developers constantly release timely modes, where players can experience new game modes over a period of time, usually a season. As more of the features and game modes released, Fortnite tournaments can unfold themselves in any direction. We might see teams vs teams, larger or smaller gamer counts and many more.
Take a look at some of the resources we have:
Show me more